This website is dedicated to perpetuating the spirit of Adiel's life. It is a treasury of photographs, letters, a scrapbook of mementos compiled over a very brief lifetime, as well as the grief-filled eulogies and elegies of recent years. It also presents the various programs and projects initiated in memory of Adiel, all of which try to "continue in his footsteps."
This "English page" is neither a direct translation nor a mirror image of the Hebrew pages. It summarizes the other pages and will enable you to link directly to them. In addition, browsing among the Hebrew pages, you will find some items in English sent by friends and family from abroad.
OUR ADIEL
– relates how we, his family, see him and miss him. It includes mementos from his life: childhood souvenirs, postcards that he sent us, exchanges of letters, and excerpts from his diaries.
Blonde, blue-eyed and weighing 3.5 kg (7 lb 11 oz), Adiel Akiva Zwebner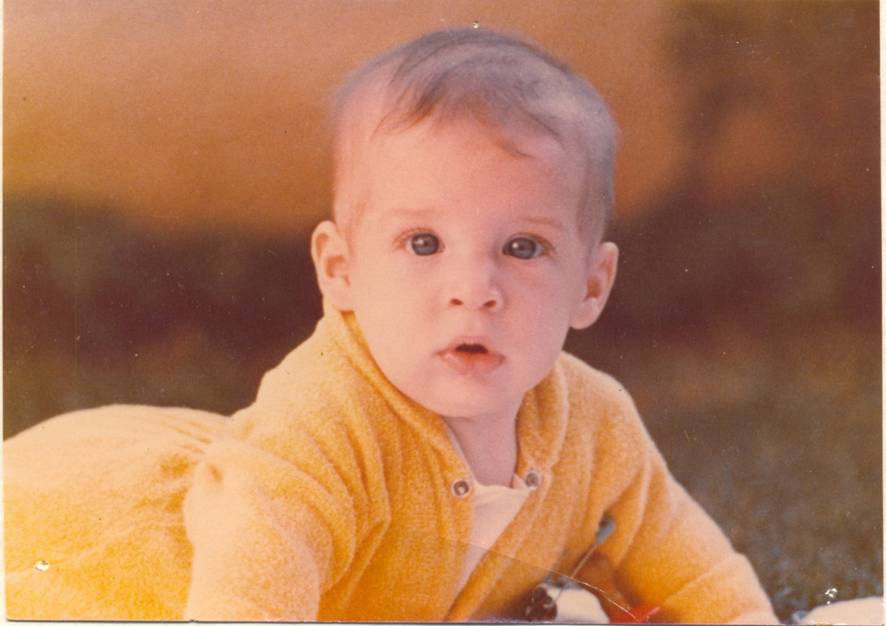 was born in Jerusalem on May 7th, 1979 (the 10th of Iyaar 5739). Adiel was named for his maternal grandmother, Alice, and his paternal grandfather, Akiva. Adiel in Hebrew comes from two words: "adi" means a jewel or an ornament; "el" is one of the various Hebrew names for God. In 1981, the Zwebner family (Ronnie, Eleanor, Yonat and Adiel) moved to Mevasseret Zion and in 1982, Gilad was born.
Adi attended the local elementary and junior high schools. As a youngster, he was in the Scouts and even a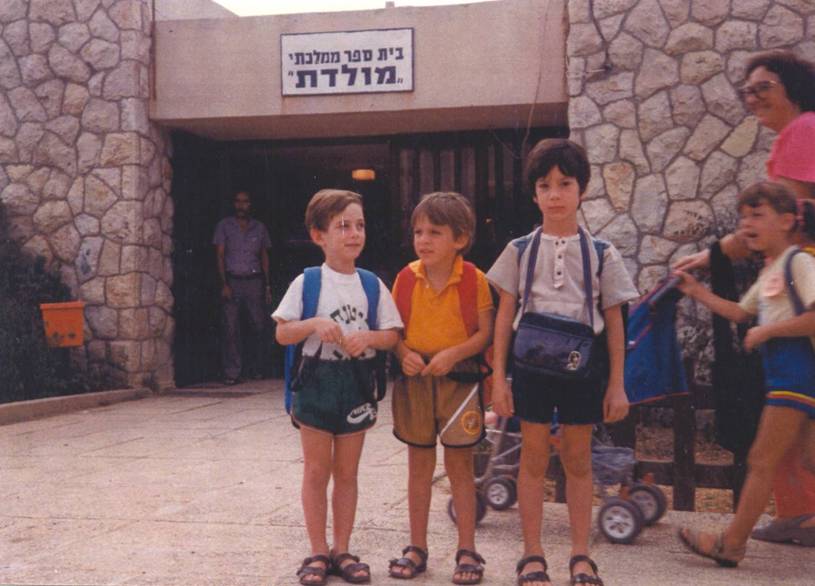 counselor; concurrently, he was very active in the Nature Club: "Hevra Le-Haganat Hateva / Sayarut". Adiel and his friends "adopted" a brackish spring in the Aminadav-Even Sapir Park on the outskirts of Jerusalem. They spent long hours cleaning it of the mud which had accumulated over decades until finally the clean water predominated: today hikers bathe in the cool waters of the spring.
Adiel was a pioneering member of the first graduating class of Harel High School in Mevasseret Zion. Although Israel studies and hiking were his hobby, he chose to major in physics and mathematics and excelled in both.
While in high school, Adi decided he wanted to be in top physical form in preparation for his military service. Each Friday afternoon, he and his friends would sprint after their physical education teacher through the Jerusalem Hills above the Sataf Nature Preserve. Aside from these teenagers, the place was deserted. However they set in motion a school tradition which drew followers from the families and local residents and today, the Har Eitan trails are crowded every weekend with joggers, bikers and hiking families from all over the country.
When it was time to serve in the military, Adiel was recruited by the army's elite commando unit as well as the Air Force. Following a brief stint in pilot's training, Adiel went on to serve in the "Orev" commando unit of the Nahal Brigade including two tours of duty in Lebanon.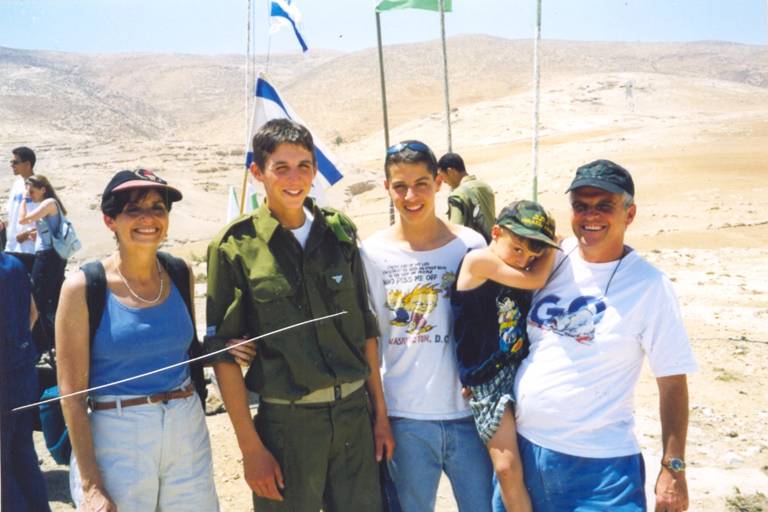 Adiel elected to extend his military service beyond the compulsory duty: he trained as an infantry officer and returned to the Orev unit as a commander.
Following his release from the army, he began to work in construction, washing windows of skyscrapers and as a waiter at catered affairs, in order to save enough money for the traditional Israeli post-army "quest". Adi preferred physical labor to office jobs and waiting on tables: in addition to seeing it as a challenge, he saw it as value in itself. In August 2001, Adiel flew to India with his good friend, Dotan Solnik. During these travels in the East, he trekked through northern India, Nepal (including a solo trek to the Everest Base Camp at a height of 5500 meters), Laos and Thailand. This period became a family affair: he met briefly with Yonat twice and trekked with Ronnie in Nepal, he and Yonat trekked, traveled and climbed cliffs in Thailand and Laos; Orr, Ronnie and Eleanor met both Yonat and Adiel for a memorable two week trip in Vietnam, together with family friends, Zichrini and Gaby Leemor.
Adiel returned to Israel just in time for Passover. He debated whether to begin university studies in the forthcoming autumn (2002) or to travel again. In the meantime, he began to work again in his various odd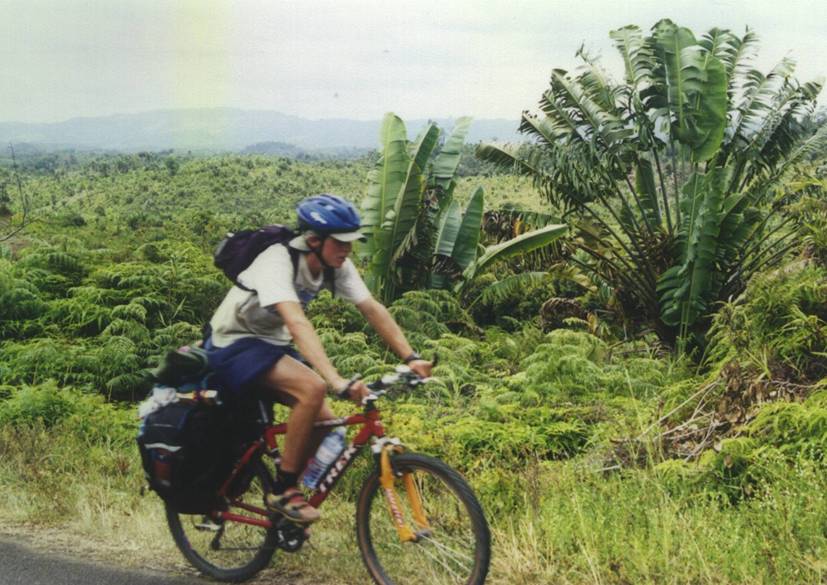 jobs. He added to his employment resume marking trails for the Nature Protection Society, which clearly combined "business with pleasure." In the end, he decided with friend Barak Zemer to visit somewhere new, to take a road less travelled: they opened an atlas to Madagascar and decided that that was where they were heading: to cross the mountains, deserts and jungles of this mostly tropical island – the size of France – by bicycle.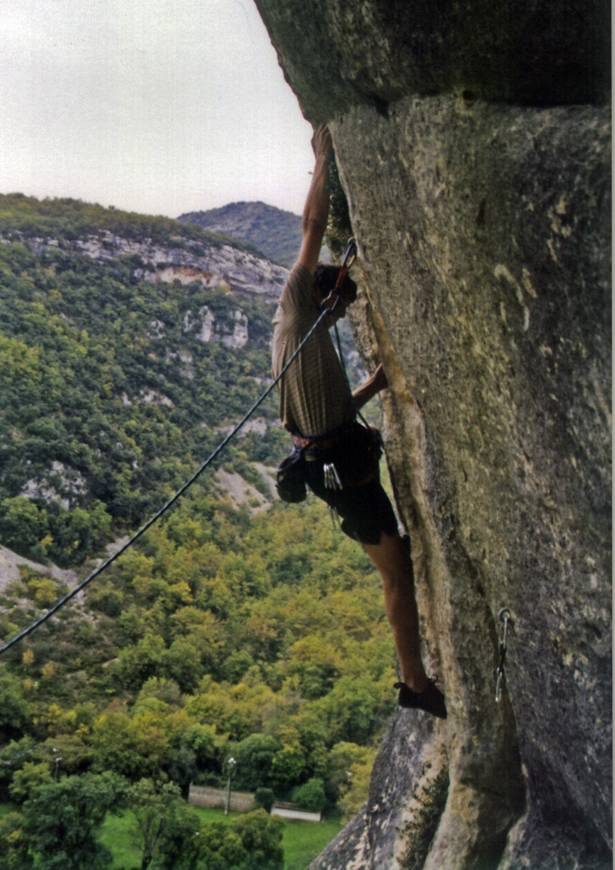 In September 2002, Adiel headed with a group of friends to climb the gorges and cliffs of France and Italy. Afterwards, Adiel continued to Madagasacar where he met with Barak. They traversed this magnificent but undeveloped country for over three months, returning home on February 1st, 2003.
In his travels in the East and in Madagascar, Adi befriended other travelers of all ages and nationalities and continued to correspond with them. Following the tragedy, many of them sent the families letters telling stories about their encounters with Adiel and his unique effect on them.
While abroad, Adiel began to consider his options and interests for university studies. He considered registering for mathematics, environmental studies or geography, but ultimately submitted only one application for admission: to the Medical School at Ben Gurion University. Although his school matriculation grades were good and his psychometric exam scores were very good, he chose to improve the scores to ensure his acceptance to medical school. The exams were scheduled for Monday, April 14th and Adiel spent much of his time preparing for the exams from the practice books.
On Saturday, April 12th, a glorious, sunny afternoon, Adiel chose to take a late break from the long indoor hours of practice and picnic with a friend, Amit Shilony, in the flowering meadows of Bar Giora. They decided to explore a subterranean spring known to hikers as the "Hidden Well-spring." Adiel met his fate in the dark recesses of this underwater cavern which was flooded from the winter rains.
In Adiel's brief life, he touched many people. He was a devoted friend and respected as a leader. He was known for his values: love of Israel, modesty, a wry sense of humor, a champion of justice, conservation and concern for the environment. He lived according to his values too, conserving water not only at home but in the lush tropics of Thailand, because, as he told Yonat, water is a global problem. Similarly, he collected plastic and paper, volunteered for numerous causes and programs, donating of his time and energy with a commitment to better the world.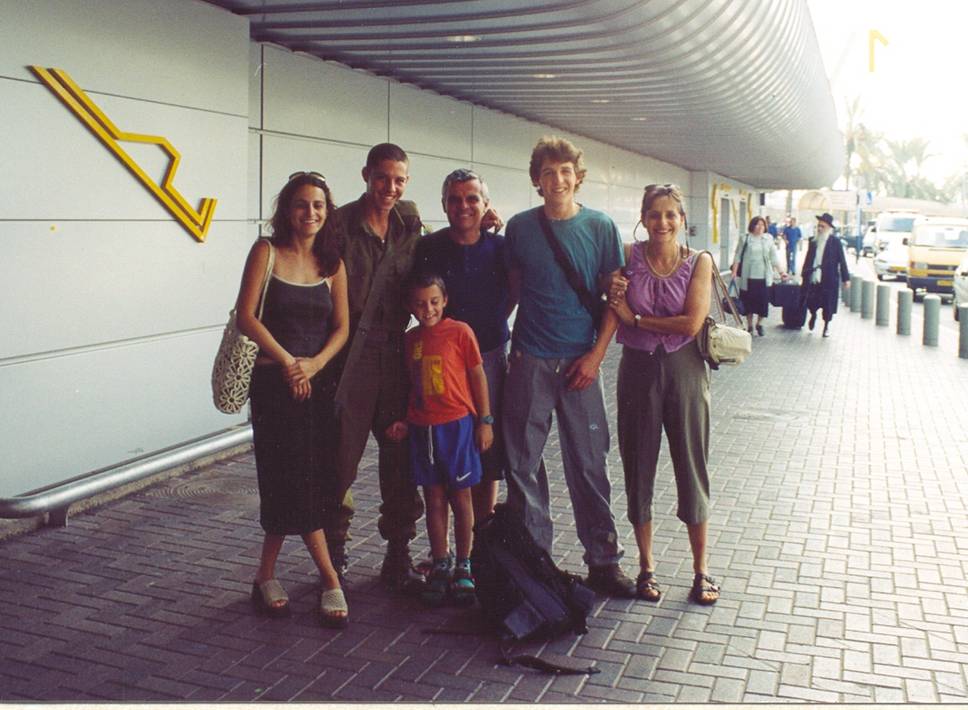 Most of all, Adi was a loving and beloved son and brother and we miss him beyond expression

.
"EVERYTHING HAS BEEN SAID"
is an ironic phrase from a Hebrew song: not everything has been said. Although these pages are mostly in Hebrew, if you scroll through them, you will find items in English.

In addition to the outpouring of shock, grief, love and sharing of memories, this link enables you to write back to us.
Album
-- a selection of some of the photographs taken over almost 24 years – from infancy, through childhood and school, scenes from Adiel's military service and of course, his travels in Israel and abroad. We have categorized them: childhood, army, travels and day to day.
FOLLOWING IN HIS FOOTSTEPS
presents the ways in which Adiel's memory and spirit are being perpetuated. Different people, connected to Adiel or the family in different ways, each from entirely different walks of life, have proposed a variety of ways to perpetuate Adiel's spirit. We were overwhelmed by each proposal: first, each was enormously moving in the fact that it was made, second, as testimony to the fact that Adiel managed to reach out and touch so many diverse people and last, by allowing us to further ideals for which our beloved Adiel stood. We are enormously proud of each enterprise that bears Adiel's name or is connected to him.
"Keren Adiel" – "The Fund in Memory of Adiel Zwebner "
We established this fund so that we can initiate programs, donate scholarships and further the ideals for which Adiel stood.
Aviv Recycling Industries' National Sorting Center named for Adiel Zwebner
Aviv Recycling Industries: Founded in 1992. It works to reduce the volume of solid waste in Israel. The plant integrates industry with environmental conservation. The company collects plastic bottles from collection bins scattered throughout the country and transfers them to their main recycling factory in Ramat Hovav. From the new raw material created during the recycling process, dozens of new products are created, from fruit baskets to picnic tables, fences to textiles like fleece sweaters and coats. In 2003, a new sorting center was dedicated in the city of Ramle. There, plastic refuse, primarily bottles, is sorted before its transfer to the Ramat Hovav factory.
The Mizrahi family, who have been friends of the family for many years, are the founders of the Aviv Recycling Industries. They have established Aviv's National Sorting Center in Ramle and have chosen to name the new center after Adiel.
From the address made at the dedication ceremony of Aviv Recycling Industries' national recycling and sorting center named in memory of Adiel Zwebner:
"
Cynics in the family raised an eyebrow and said, 'What! A garbage dump named for Adi?' And, yes, it was impossible not to smile, but it was eminently clear to us, that there was no way more fitting to preserve Adi's memory .
Adi loved nature and the environment with all his being and was seriously disturbed by ecological problems. He felt it was important to safeguard the world in which we live and he set an extraordinary personal example to this effect.
Many words have been written about Adiel's unique way and his concern for preserving the world's environmental quality. At last, the words and the paper on which they were written (recycled paper, of course) can be set aside and the action can begin.
The new reality of life without Adiel is dark and difficult. An occasional ray of light penetrates the gloom, illuminating a pathway for us to continue. These lightbeams are characterized by the feeling that we are continuing in Adi's footsteps, carrying his message, fulfilling his wishes … we are hopeful that this important enterprise, together with the direction to which Adi pointed, will remain with you at the end of this day. It is sufficient that each individual among us, will consider once each day the beautiful but fragile world in which we live and will do one deed each day, designed to preserve or improve the world in which we live – and things will already look different…."
Harel
High School
(Tichon Harel) in Mevasseret Zion operates several projects together with the Zwebner family and the fund established in Adiel's memory. For example, in 2004 the tenth-graders competed in organizing volunteer programs to benefit the local community: the best program won a hike in the Negev and a campfire and barbecue at Kfar Adiel, all hosted and accompanied by Adiel's friends and family.
In view of Adiel's passion for hiking in Israel, each year a competition is held among the 12th graders majoring in Land of Israel Studies. Each student is required to submit a research paper as part of his studies: a prize is awarded by the Adiel Fund to the three students who submit the best papers.
The Masorti-Braunschvig High School
The Masorti-Braunschvig High School approached the Zwebner Family in 2004 with an idea to honor Adiel's memory. Each year a "marathon" contest of several phases is held for the pupils in the ninth grade in Land of Israel Studies. The three winners are each awarded a prize at their graduation celebration.
Adiel's connection to the Masorti High School is through affiliation and friendship: his sister, Yonat, was a member of the fourth graduating class; his mother, Eleanor, has been a teacher there since 1987. Last, with the exception of Adiel, all members of the Ayalim Association which founded Kfar Adiel, studied at the Masorti High School. The common values shared by their families and educators brought them together as friends.
KFAR ADIEL
– ADIEL STUDENT VILLAGE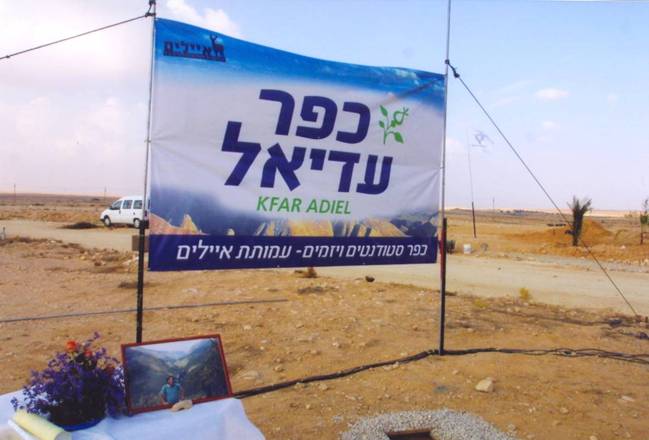 Adiel was among the founders of the Ayalim Association – a non-profit organization founded by a group of young army veterans, whose common goal was strengthening settlement, social activism and volunteerism in the Galil and the Negev.
The emphasis of the Association and the students living in Kfar Adiel is on the spirit of Israel's pioneering heritage, the virtues of labor, personal commitment to one's community and the nurturing of the symbiotic bonds between man and the land.
Adiel loved Israel, particularly the Negev. He loved the desert landscape and hiked the Negev, traversing its length and width. Nature, hiking and challenging sports like rock-climbing and rappelling were Adiel's daily activities. He travelled across Israel and to distant corners of the world, a knapsack on his back, on foot or riding a bicycle.
Adiel lived according to the values in which he believed so strongly - giving selflessly for the benefit of others, helping the less fortunate and the virtues of physical labor. Determined to live in the Negev and translate his beliefs into action, Adiel registered for studies at Ben-Gurion University in Beer Sheva.
KFAR ADIEL
is located in Ashalim, a community in the Negev approximately 35 km south of Beer Sheva. It measures 30 dunams (about 7.5 acres) and falls within the jurisdiction of the Ramat HaNegev Regional Council.
KFAR ADIEL
is a student and entrepreneur village intended to attract young men and women to the Negev, with the intention of creating a nucleus for permanent settlement. Kfar Adiel hopes to realize David Ben Gurion's vision of settling the Negev. It is establishing a core of enterprising students and innovators in the Negev, and is connecting them to the region and to the local population. Students and entrepreneurs are given financial aid in the form of accommodation, scholarships and a business resource center. In return, they contribute of their time, energy, knowledge and experience to the communities in the Negev, especially in the schools and community centers.
Located in the heart of the Negev, Kfar Adiel is the first project and the flagship of the Ayalim Association. At the present stage, a "temporary compound" built by the students themselves is home to 70 students. The site currently includes temporary structures primarily for housing, a study hall, clubhouse and pub, offices of the Ayalim Association.
The local council of Ramat HaNegev ardently supports the project which will serve to strengthen the local population; in addition, the Sacta-Rashi Foundation, the Queen Esther Foundation and the Jewish Federation of Denver have all been instrumental in its establishment. The Jewish Agency has been enthusiastic in its support. Lastly, the government of the State of Israel recognizes the potential and the power of the project: Shimon Peres laid the cornerstone in November 2003 and in December 2004, Prime Minister Ariel Sharon was the guest of honor at the opening ceremony in December 2004.
Construction is currently underway for the permanent facilities. The completed village will include 150 permanent housing units for students, public buildings (study resource center, business resource center, recreation hall and other accompanying common-use facilities).